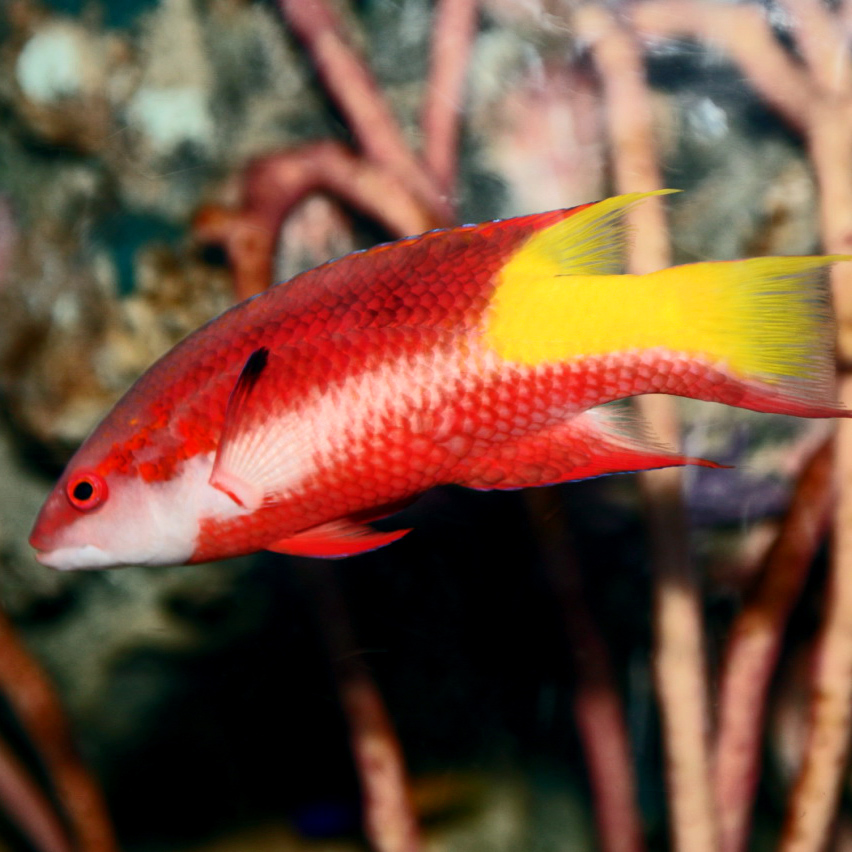 Aquaculture History
The first successful aquaculture of the Cuban hogfish, Bodianus pulchellus was achieved in 2017 by Dr. Cortney Ohs, Jason Broach, Andrew Palau, and Isaac Lee at the University of Florida Indian River Research and Education Center with funding from Rising Tide Conservation.
Prior attempts by other facilities to aquaculture this species achieved successful spawning but not settlement.

UF/IFAS IRREC Successfully Aquacultures the Cuban Hogfish, Bodianus pulchellus! Published 24 July 2017
Biological and Ecological Information
The Cuban hogfish, also known as the Spotfin hogfish, is a species of wrasse native to the Atlantic Ocean, ranging from the Carolinas and Bermuda to Honduras, South America, and Madagascar. Coloration changes as the fish mature, but is a striking combination of red, white and yellow. General adult size is 18 centimeters, but can reach up to 29 centimeters. This species typically inhabits rocky and coral reefs at depths of 15 to 24 meters, but they have been found at depths up to 120 meters. They do not swim at a specific depth level making them difficult to reliably catch for the aquarium trade.
The Cuban hogfish forms harems in the wild with the territory of one dominant male containing several females. Like other members of the wrasse family, they are protogynous and change sex from female to male. It has been reported that most males harvested from the wild are secondary males (originally female).
Mature adults eat shrimp, squid, snails, worms, mussels, and small fish.
Read More
• Captive-Bred Cuban Hogfish Soon Available | In a partnership with the University of Florida and Rising Tide Conservation, Proaquatix is bringing the first captive-bred Cuban Hogfish to market. Published 28 August 2018 by Reef To Rainforest
• Update on Cuban Hogfish, Bodianus pulchellus at UF/IFAS IRREC Published 24 May 2018
• UF/IFAS IRREC Successfully Aquacultures the Cuban Hogfish, Bodianus pulchellus! Published 24 July 2017