A 35 day old milletseed butterflyfish larva with more pronounced dorsal spines.  During this recent trial, larvae displayed greater development in a shorter period of time.
It's been a while since our last milletseed butterflyfish post but, not to worry, I've been very busy conducting a variety of replicated experiments to better understand their larval requirements.  From those experiments, I've learned several important things about raising the milletseed butterflyfish.
From our previous examinations we knew that nauplii of the copepod Parvocalanus crassirostris could be used as a first feed, however, in clear water only about 50% of larvae were feeding. After exploring the literature, I decided to test a variety of parameters including algal turbidity, prey density, prey selectivity, tank size, light intensity, and stocking density in order to increase feeding performance.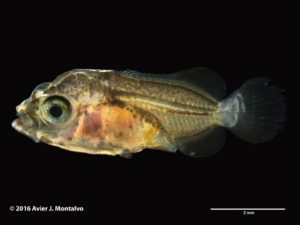 A 35 day old milletseed butterflyfish larva with less dorsal spine development and more elongate shape.
From these studies I initially learned that the milletseed butterflyfish do not identify rotifers (Brachionus plicatilis) as prey throughout larval development. Additionally, testing revealed that different stocking densities, light intensities, and tanks sizes didn't have a significant effect on feeding incidence or performance of the larvae.  However, what did enhance feeding was the addition of algae (T-ISO) to the tank; which increased the feeding incidence to about 90%.  Another interesting result was that feeding incidence was the same at 1 individual/mL as at prey densities up to 20 individuals/mL.

While the rearing of milletseed butterflyfish to the juvenile phase has not been accomplished yet, this information is crucial for the optimization of culture methods of the milletseed butterflyfish. By improving early larval feeding we can increase early larval survival and promote development, increasing the likelihood of rearing larvae to settlement.
Jon-Michael Degidio