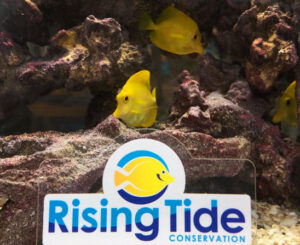 OUR MISSION
Rising Tide Conservation is dedicated to developing and promoting aquaculture of marine ornamental fish species through the collaborative efforts of researchers, public aquaria, hobbyists, pet industry professionals, and conservation groups. 
Rising Tide Conservation facilitates sustainability in the aquarium industry by supporting marine ornamental fish aquaculture research in order to reduce the impacts of wild fish collection on fish populations and the coral reefs where they live.
We work towards our mission through full and partial funding of marine ornamental fish aquaculture research, both to develop initial aquaculture protocols and to optimize aquaculture protocols for commercial use.
Further, we are supporting the next wave of aquaculture researchers and aquarists by funding graduate students and supporting professional development through internships and externships with our partners in the aquarium industry.
A RISING TIDE

LIFTS ALL BOATS
AQUACULTURED

FISH
 Aquaculture provides a sustainable source for aquarium fishes, and can reduce the impacts of wild collection on fish populations and the habitats where they live. Just a small percentage of marine fish species in the aquarium industry have been aquacultured, creating a need for research to develop and refine marine ornamental fish aquaculture methods.
We support marine ornamental fish aquaculture research at facilities that meet strict animal welfare standards. These research facilities must maintain a high standard of husbandry practices, ensure that all animals are kept in a healthy environment, are fed a well-balanced diet, and are observed throughout their life and time at the facility to ensure a good quality of life and kept in good health. 
We believe aquaculture is an important, impactful way to increase sustainability in the aquarium industry, but not the only way. We support verified sustainable initiatives, including the regulated and transparent wild collection of certain species.
THE
AQUACULTURE PROCESS
The aquaculture process is intricate and can take years before success is achieved. The Pacific blue tang, Paracanthurus hepatus, took over six years and collaboration with other research facilities before successful aquaculture was achieved in 2016 at the UF/IFAS Tropical Aquaculture Lab, with funding from Rising Tide Conservation.
After success has been achieved, the process is replicated and refined to identify the ideal conditions that allow marine ornamental fish to breed, spawn, grow, and thrive in human care.
By freely sharing findings from funded aquaculture research, we are working to make aquaculture more accessible by reducing the time and financial investment barriers.