With over 130 species in a lagoon style exhibit it was only a matter of time before we found something unusual in the larval rearing tanks stocked with eggs from Discovery Cove. Two weeks ago we spied tiny larvae swimming amidst the hordes of grunts and other large larvae that dominated the tank. Since the tiny of the tiny is what we are really interested in we concentrated our efforts on supplying only small zooplankton offerings that fit through a 75 micron mesh screen. This meant, tiny copepod nauplii, ciliates, tintinnids, dinoflagellates, and other small zooplankters. Drip feeding twice a day with live Nannochloropsis micrcoalgae still resulted in heavy mortality rates early on, but we managed to pull a handful of tiny larvae through to the 'not so tiny' stage. Interspecific competition is pretty intense in a tank full of grunts so the fact that a few of these larvae pulled through bodes well for future efforts to size sort the smaller eggs for targeted rearing.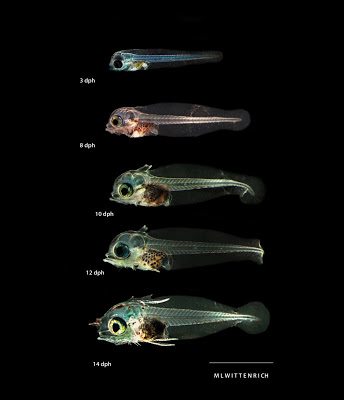 Probable holocentrid larvae collected as eggs from Discovery Cove and raised at the Tropical Aquaculture Laboratory
At first, we thought these small larvae might be surgeonfish, and their development seemed to corroborate this thinking….until today. The dorsal and pelvic spines that appeared as mere buds a day or two ago have given rise to robust spines that go against surgeonfish development. Instead, they fall in line with Holocentridae, the soldierfish.
The larvae are 14 days old today and slightly more than 2 mm total length. Although not a surgeonfish, the development of these unique fishes is surely astounding. We will keep you posted as they develop.